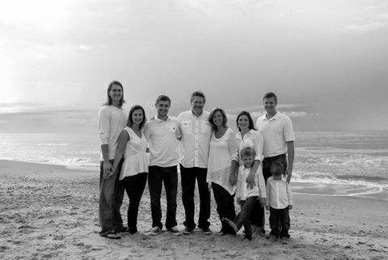 Pastor Ray Conner is the lead pastor of Life Point Church.
I am originally from Scotland Neck, NC. I was saved in my home church at the age of 14. Later that year I felt God's calling on my life to preach His Word. I responded to God's call, and after graduating from high school, made my way to Free Will Baptist Bible College in Nashville, TN. It was during that time that I met Ginny Gaskins from New Bern. Ginny would later ask me to marry her and make her the happiest girl on earth (this isn't really true, of course).
I have a passion to minister to people. As a result of that passion, I entered Liberty University's online program for counseling. In 2009, I received my MA in Professional Counseling and started the arduous process of state licensure. In December, 2012 I became an independently licensed professional counselor through the state of North Carolina. I am also a Licensed Clinical Addiction Specialist through the state of North Carolina. I love the counseling ministry and try to share God's love through this calling.

Ginny and I have three totally awesome adult sons. Raymond is our oldest and is married to Nena. Ray started and runs his own business in Asheboro, NC. Ray and Nena have three beautiful children, Finley, Cohen, and Lucy. The grandkids are adorable and I wish I could take credit for their looks and smarts.
Joseph is our middle son and he is married to Allison. Joseph and Allison live in the Newport area and attend Life Point Church. They're just an awesome couple and so supportive.
Our youngest son is Marcus and he is married to Jill. They attend Life Point Church and Jill plays keyboard for our Praise and Worship Team. Marcus and Jill are a beautiful couple

I'm excited about what God is doing through Life Point Church. We have incredible people who love the Lord and their community passionately. Join us for a Sunday worship experience. You'll meet some of the friendliest people anywhere who will accept you just the way you are.
Worship:
– Website, Social Media, Sound, Worship Team, Live Stream Ministry, Worship Planning, Communication, Information Technology Infrastructure and equipment
Administration:
– Finances, Church Policy & Procedure, Benevolence
Services:
– Men's Ministry (Iron Men), Women's Ministry, Shepard's Hand Ministry, Softball Ministry, Greeters/Ushers, Welcome Point Table, Mentoring
Evangelism:
– Community Outreach, Missions, Food Pantry, National Night Out, Thanksgiving Festival
Focus Groups:
– Smart Recovery, Grief Share, Compassionate Friends, Life Groups
Building:
– Strategic Planning, Maintenance, Communion Setup, Baptistry Preparation, Security
LIFE GROUPS
WOMEN'S GROUP
IRON MEN
LPC YOUTH
Anonymous, February 24, 2023 - 11:02 am
I'm struggling going through a very difficult time and needing Gods strength to get through it please and asking for his healing on my mom. Thank you to all who pray so much!
Anonymous, February 6, 2023 - 9:32 am
Phil Chavez, December 2, 2022 - 12:37 pm
Please pray for my mom Lorraine's salvation and pray for her healing. She lost her hearing, has memory loss, bad posture, body pain, and high blood pressure. Pray for excellent health. Pray for a long life for Lorraine.Pray for the removal of debt and financial blessings and financial security for Lorraine. Pray Lorraine's possessions last a hundred times longer and will supernaturally become newer and repaired. Also, please pray for salvation and excellent health and long life for my uncle Seve,aunt Jackie and Pray salvation, healing and long life for my mom's boyfriend Joe who has cancer.. In the name of Jesus Yeshua Hamashiach Amen . ... Please Pray GOD Blesses me with a life partner real soon in JESUS Name. I've been praying for this since 1995
Ezekiel Rowe, March 27, 2022 - 4:10 pm
My Fiancée Billie Jo's daughter who is 26 is in the hospital with Cancer, a deteriorating Bone Disease and a Unknown Disease but she has went from 190 pounds to almost 87 pound. She is not well at all and it's just a bad situation. I would like to ask my church family to pray and keep not only Liz but also Billie Jo in your prayers they both needs Gods hands over them, In Gods Mercy And Grace thank you all 🙏🎚🙏🎚
Anonymous, January 25, 2022 - 5:22 pm
I lost my mom three years ago to cancer and my father six months ago to heart failure. Me and certain family members aren't seeing eye to eye. I'm in my first relationship and there are hard times going on in the beginning of the new year. I would really appreciate it if everyone can keep me lifted in prayer.
Giving
Our God is a God of abundance and He loves to give. He sacrificed willingly on the cross and then invited us into fullness of life. As His children, we are called to imitate Him. Our generosity in giving is a demonstration of God's character and a response to what He has done for us.
Our church is always looking for ways to serve you as you live out your faith throughout the week. We are inviting you to have a free account to an exciting new video library called RightNow Media. It's essentially the "Netflix of Video Bible Studies" because you will have instant access to thousands of great videos for kids, youth, parents, married couples and more. You can view these videos from your phone, tablet or computer. And you can also view them in a group setting through a TV or projector. To get connected to this GREAT resource, signup at the Welcome Center this Sunday.
Sermons
All LIVE streamed services are posted on our LifePoint Youtube channel.

Women on Mission is a ladies group that meets on Sunday's at 3pm at LifePoint Church.
Contacts:
Susan Rhodes, 252-241-7447
Rayne Herrin, 252-269-7502
EMAIL
LifePoint Lady's Group Would Love To Have You Participate In The Fun Of Loving Jesus!