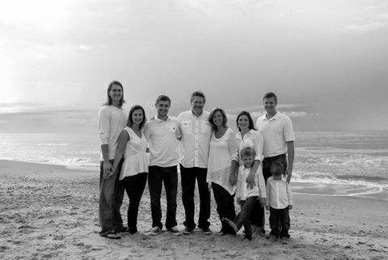 Pastor Ray Conner is the lead pastor of Life Point Church.
I am originally from Scotland Neck, NC. I was saved in my home church at the age of 14. Later that year I felt God's calling on my life to preach His Word. I responded to God's call, and after graduating from high school, made my way to Free Will Baptist Bible College in Nashville, TN. It was during that time that I met Ginny Gaskins from New Bern. Ginny would later ask me to marry her and make her the happiest girl on earth (this isn't really true, of course).
I have a passion to minister to people. As a result of that passion, I entered Liberty University's online program for counseling. In 2009, I received my MA in Professional Counseling and started the arduous process of state licensure. In December, 2012 I became an independently licensed professional counselor through the state of North Carolina. I am also a Licensed Clinical Addiction Specialist through the state of North Carolina. I love the counseling ministry and try to share God's love through this calling.

Ginny and I have three totally awesome adult sons. Raymond is our oldest and is married to Nena. Ray started and runs his own business in Asheboro, NC. Ray and Nena have three beautiful children, Finley, Cohen, and Lucy. The grandkids are adorable and I wish I could take credit for their looks and smarts.
Joseph is our middle son and he is married to Allison. Joseph and Allison live in the Newport area and attend Life Point Church. They're just an awesome couple and so supportive.
Our youngest son is Marcus and he is married to Jill. They attend Life Point Church and Jill plays keyboard for our Praise and Worship Team. Marcus and Jill are a beautiful couple

I'm excited about what God is doing through Life Point Church. We have incredible people who love the Lord and their community passionately. Join us for a Sunday worship experience. You'll meet some of the friendliest people anywhere who will accept you just the way you are.
Worship:
– Website, Social Media, Sound, Worship Team, Live Stream Ministry, Worship Planning, Communication, Information Technology Infrastructure and equipment
Administration:
– Finances, Church Policy & Procedure, Benevolence
Services:
– Men's Ministry (Iron Men), Women's Ministry, Shepard's Hand Ministry, Softball Ministry, Greeters/Ushers, Welcome Point Table, Mentoring
Evangelism:
– Community Outreach, Missions, Food Pantry, National Night Out, Thanksgiving Festival
Focus Groups:
– Smart Recovery, Grief Share, Compassionate Friends, Life Groups
Building:
– Strategic Planning, Maintenance, Communion Setup, Baptistry Preparation, Security